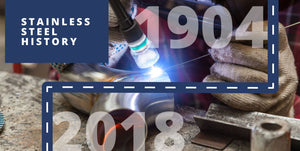 The History of Stainless Steel (Infographic)
It may come as a surprise to learn that stainless steel has been in production for less than 120 years! While other materials like iron have been around for more than a thousand years, steel is quite new on the scene. However, despite its infancy, it has been revolutionary in the modern world, with a huge impact over the years. Learn more about this fascinating material in our infographic:
And the future of stainless steel? Well, it definitely isn't stopping, with more benefits discovered all the time and we can't wait to be apart of it all!
---