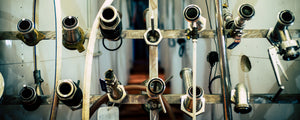 Winery Equipment & Fittings
Stainless Steel Fittings for the Wine Industry.
Having supplied the wine industry for numerous years, I have found that there are many fittings used and that they vary depending on the winery. Every year just before vintage the rush starts to get hoses replaced or repaired, new fittings made up, spares parts supplied, new fittings and hard lines installed. Wineries have a few standard fittings which are also used in other industries, and then there are a few specific to them, so let's take a look at what is used and needed.
Hoses are used to transfer liquids around the winery. There are a wide variety of wine hoses, but we can categorize that into PVC (up to 60deg Temp) and Rubber (above 60deg Temp and higher pressure). Food grade hoses for the transfer of wine, water hoses for wash-down and general purposes hoses. When selecting hoses you will need to supply temperature range, maximum pressure, application of suction or delivery or both, and if any special fluid requirements e.g. food grade, chemical resistance etc. Hose assemblies complete with end connections installed can make life easier and we can offer this if needed.
Turret Fittings are a ball-lock, two way shut off coupling system which is ideal for sparging and introduction of gases/liquids to a line or tank. These fully stainless steel fittings (male and female couplings) are available specifically for gas or liquid applications, so that if you have both running in your winery they will not be able to cross contaminate from one fitting to another.
Wine Unions These originated in Australia specifically for the wine industry. This is comprised of a nut, seal, liner and male fitting. The brass wing nuts are unique to this union, which holds a liner and a square seal. This is then mated to a male wine fitting to make up the union. The ends are butt weld to suit tube. Other options on the nuts are stainless steel wing and slotted configurations, plus the addition of a robust plastic nut (2" only). Blank caps and blank nuts are available to cap off the males where required.
Fabricated Fittings are essential in the wine industry for the transfer of liquids. These may be made up of food grade stainless steel bends, tees, reducers, wine valves, sightglasses and other fittings, as every job has different requirements. Hosetails and Hose Joiners are used in hoses, while reducing adaptors and bends enable to change from one size or type to another. Cut out tees (as pictured) are used to divert flows from wine tank to tank/truck, and Sparging Tees are used in conjunction with Turret Fittings to inject gases into the wine flow path. Sightglasses are vital to see the product going through the line, while valves are used throughout the winery to isolate lines/fittings. Barrel Spears enable the transfer of wine from barrel to barrel/vessel and Valenches are used to take small wine samples direct from the barrel. Sprayballs and cleaning heads are used to clean vessels in between uses.
Stattin Stainless use contractors to provide our customers with fabricated fittings, so if you need adaptors, hosetails, cut-out valves, sightglasses or any other fitting made up just ask.
View our updated article on wine fittings here.
---