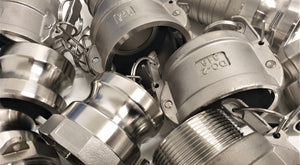 Industries and Uses for Stainless Steel Camlocks
In the past, connecting and disconnecting hoses in industrial settings required the use of a variety of tools. Now, with camlock couplings, this can be done easily and reliably without the need for tools.
Also referred to as cam and groove fittings, camlocks are a commonly used piece of equipment in many industries today. Made to rapidly connect and disconnect fittings on piping or hoses, the piece requires no extra tools, is simple to use and extremely versatile, which is why it can be seen in so many different environments.
With the ability to use camlock fittings for both dry and wet materials, the fitting is appropriate for transferring food, water, fuel, or sand. Some common industries you may find camlock fittings include homebrew, agricultural, military, and industrial. Stainless steel camlocks are commonly used for the transfer of acid, alkali and corrosive substances.
Our stainless steel camlock fittings are the most robust and durable of the camlock fittings.The hygienic properties of the Grade 316 stainless steel cam and groove couplings make them the first choice in food, beverage and pharmaceutical processing, as well as corrosive applications. Manufactured to close tolerances, our high quality couplers provide a durable, low maintenance solution and often work out the least expensive long-term solution.
Shop our
range of camlock fittings
 or get more information or advice by
contacting our team
of stainless steel experts and suppliers in Adelaide.
---