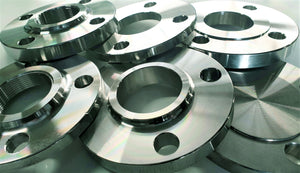 The Benefits and Uses of Stainless Steel Flanges
Stainless steel is used in many applications both from a domestic and industrial standpoint for good reason. It is resistant to corrosion, temperature resistant, easy to fabricate and looks good. Stainless steel flanges offer all these benefits and more. 
A vital connecting link for piping, valves and other equipment, stainless steel flanges are essential in industries like gas, transport, water and food and beverage, as well as power generation and chemicals. There are several benefits to flanges in these industries:
Easy Access
Using flanges in industrial applications provides easy access for inspection, modification and cleaning, crucial in any application.
No welding, painting or blasting
Using flanges eliminates the need for the pipe spools to be welded. Painting and blasting are also not necessary, unlike other fittings and methods.
Fast fabrication and ease of modification
Numerous piping spools can be manufactured in a workshop with relative ease and speed. They can also transition from different materials, such as stainless steel to copper or brass.


While stainless steel flanges can be expensive to insulate and take up more space, using other materials can require more work installing and maintaining. Using flanges in stainless steel far outweighs the alternatives. 
If you want to take advantage of these benefits or are looking to purchase within Australia, take a look at our
range of stainless steel flanges
.
We have various sizes and styles to suit any industry or application.
---