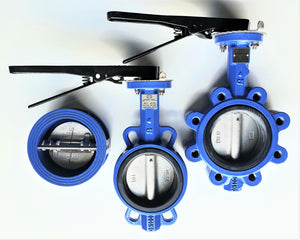 Wafer Type & Lugged Type Butterfly Valve Uses
With a history dating back over 80 years, butterfly valves are an essential component in a wide variety of applications. Often made from cast iron and stainless steel, butterfly valves are named as such based on the functionality of its disc, shaped like a butterfly to control the flow of liquids.
There are two main types of butterfly valves - wafer and lugged.
Wafer Butterfly Valve vs Lugged Butterfly Valve
The wafer style valve usually has just two or four unthreaded holes to secure and align the valve within two mating flanges. The lug style has threaded holes which allows the user to take off one end of the line without affecting the opposite side as it is held securely against one flange with bolts that match the threaded lugs on the valve. This makes it easier to clean, inspect, repair or replace other sections of pipework as there is no need to shut down the whole system.
Applications of Stainless Steel Butterfly Valves
Both styles of butterfly valve can be used in many different industries and applications. For example, this style of  valve is perfect for HVAC or agricultural irrigation systems where there are many connecting elbow, tee and coupling fittings. Butterfly valves make it easy to regulate flow for different regions. 
Butterfly valves are also suitable in pressurised applications where air or gas is involved. Normal valves can struggle to open fast enough, whereas butterfly valves make it easy to do so instantly. Butterfly valves are also useful for food processing, pharmaceutical, chemical, petroleum, water and wastewater management applications.
If you are looking to purchase butterfly valves within Australia, take a look at our range of stainless steel wafer type and lugged butterfly valves. At Stattin Stainless, we supply a variety of sizes and styles to our customers across Australia.
---